Among the many challenges of having a small bathroom involves fitting certain features that you want inside without making it feel cramped. Thanks to recent trends, you can now give it a makeover that breaks old, established design rules.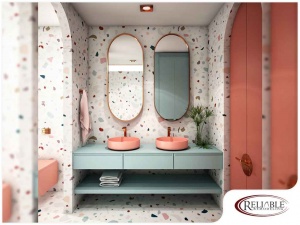 Today, Reliable Remodeling, your local provider of home interior and exterior services, shares the fresh and innovative design concepts that rethink what we all expect a small bathroom to look like.
No Need for Enough Bathroom Storage
Given the bathroom's limited space, you might not have the luxury of having extra storage in it. Those large vanities with deep cabinet space underneath could be taking up much real estate, which is why the bathroom looks cluttered and smaller than ever. To solve the issue, you must get rid of unnecessary items. Determine how many towels, cosmetics and other bathroom essentials you really need. To open more visual space in your bathroom, consider shallow cabinets and a floating sink.
Adding Function Instead of Storage
Once you freed up space in your small bathroom, find out how you can add utility to it. That'd be better than just treating the extra space you've created as additional storage. Placing an all-in-one washer and dryer and a laundry basket, for instance, can save trips to the laundry room.
Indulging on Finishes
You need less when working with a smaller space, so when it comes to your bathroom, it's okay to go all out on your desired finishes. Bathroom and kitchen remodel pros recommend upgrading to quality accent lighting fixtures and glass shower doors. You can also swap your current toilet for a new floating-style one.
Adding Depth With Textures and Patterns
The notion that dark colors or busy patterns are not ideal for small spaces is a myth. For your small bathroom remodeling project, you can make the whole space look lively with strong patterns and textures for your tile flooring and walls.
Get started with your small bathroom remodel with the help of the pros from Reliable Remodeling. Count on us for your other needs—we provide exterior renovations and painting services, as well. Call (205) 988-9194 or fill out our contact form to request a free estimate. Our Alabama service areas include Pelham and the surrounding communities.