Curbless Showers: A Guide to Installation, Cost, and Maintenance
As a general contractor and remodeling company in Birmingham, AL, Reliable Design-Build-Remodel is always on the lookout for innovations in the world of home design. One trend that has been gaining popularity in recent years is the curbless shower. We will answer some common questions about curbless showers and help you determine if they are a good idea for your home.
Are Curbless Showers a Good Idea?
Curbless showers can be a great addition to any bathroom, especially for those who want to make their home more accessible or are planning to age in place, especially for those with mobility issues. They provide a seamless transition from the bathroom floor to the shower, eliminating the need for a raised threshold or curb that can be a tripping hazard, overall making it easier to get in and out of the shower. Additionally, curbless showers can be easier to clean, as there are no crevices or corners where dirt and grime can accumulate. Finally, curbless showers can increase the value of your home, as they are a popular and desirable feature among potential buyers.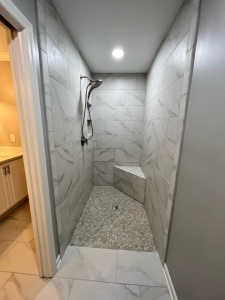 How Much Does it Cost to Install a Curbless Shower?
The cost of installing a curbless shower can vary depending on several factors, including the size of the shower, the type of materials used, and the complexity of the installation. In general, you can expect to pay more for a curbless shower than you would for a traditional shower with a curb. On average, homeowners can expect even a basic Curbless Shower installation to be an expensive proposition.. However, the cost can be higher for larger or more complex installations.
How Does Water Stay in a Curbless Shower?
One concern many people have about curbless showers is how water is contained within the shower area. While there is no raised threshold to contain water, curbless showers typically feature a slight slope toward the drain that directs water back into the drain. Additionally, some curbless showers may feature a small lip or barrier to help contain water.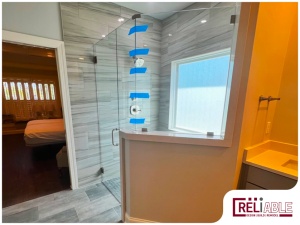 What is the Difference Between a Curbless Shower and a Curb Shower?
The main difference between a curbless shower and a curb shower is the presence of a raised threshold or curb. Curb showers have a raised lip around the perimeter of the shower that helps contain water and prevent it from spilling onto the bathroom floor. In contrast, curbless showers have no raised threshold or curb, providing a seamless transition from the bathroom floor to the shower.
Do Curbless Showers Leak Water?
While any shower can potentially leak water if not installed correctly, proper installation techniques and materials can help prevent leaks in curbless showers. It is essential to hire an experienced and skilled contractor who understands how to properly slope the shower floor and install a waterproof membrane to prevent water from seeping into the subfloor.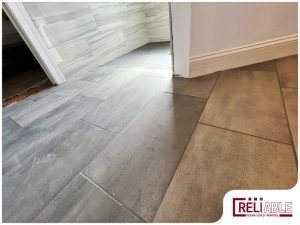 Curbless showers can be a great addition to any bathroom, providing a sleek, modern look and improved accessibility. While the cost of installation can vary depending on several factors, they can be a worthwhile investment for homeowners looking to improve the functionality and safety of their bathroom. If you're considering installing a curbless shower, be sure to hire a reputable contractor with experience in this type of installation to ensure a successful outcome.

Reliable Design-Build-Remodel is a full service general construction firm operating in the Birmingham metro and Jefferson and Shelby County areas and surrounding communities, including Birmingham, Helena, Chelsea, Mountain Brook, Hoover, Homewood, Montevallo, Alabaster, Vestavia Hills, and Pelham with over 30 years of servicing our valued clients. Offering full service suite of general remodeling, design and build services including our small handyman division. Our specialties include bathroom remodeling, kitchen remodeling, exterior renovations, painting, and more!
Visit us at reliablerem.com, and like and follow us on Facebook and Instagram!