If you love outdoor activities, an exterior deck is a great addition to your home. It's the perfect place for Sunday brunches or backyard parties. Before building your dream deck, however, there are several deck railing height requirements and safety codes you need to consider, particularly for deck rails and balusters.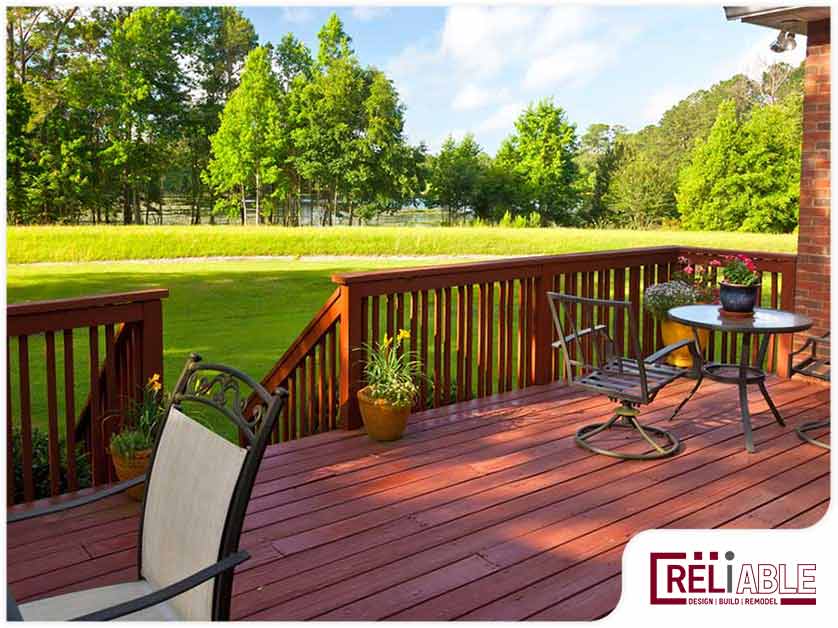 Deck Railing Height Requirements: Railing Height for Residential Decks
Regardless of how high your deck is off the ground, the railing should be at least 36 inches high. This is the standard dimension as outlined in the International Residential Code (IRC).
Guardrail vs. Handrail
Some homeowners often use these terms interchangeably, but guardrails and handrails are different. Guardrails are code tested to ensure you don't fall off an elevated deck while handrails are horizontal or sloped and often found on the sides of staircases. If you plan to have a raised deck, be sure to measure the height to determine whether you need a rail or not. A deck that is more than 30 inches off the ground, for example, may need a guardrail.
Deck Balusters
In general, deck balusters are required to be four inches apart or less. Since the average diameter of a baby's head is four inches, doing so prevents their heads from getting stuck between the balusters. Additionally, the gap between the bottom of the railing and the deck surface should also be no more than four inches.
Deck Stairs
When it comes to deck stairs, the rails should be between 34 to 38 inches high. This is measured vertically from the nose of the tread to the top of the rail. Treads should be at least 10 inches deep while the rise, or the vertical distance from one tread to the next, should be no more than 7 ¼ inches high. In an area with no more than 4 square inches, stair treads must also weigh at least 300 pounds.

Reliable Design-Build-Remodel is a full service general construction firm operating in the Birmingham metro and Jefferson and Shelby County areas and surrounding communities, including Birmingham, Helena, Chelsea, Mountain Brook, Hoover, Homewood, Montevallo, Alabaster, Vestavia Hills, and Pelham with over 30 years of servicing our valued clients. Offering full service suite of general remodeling, design and build services including our small handyman division. Our specialties include bathroom remodeling, kitchen remodeling, exterior renovations, painting, and more!
Visit us at reliablerem.com, and like and follow us on Facebook and Instagram!