Homeowners who are looking to open up new spaces in their home often consider doing a home addition remodel. This is great for when you want a new bedroom for your growing family or if you want to build an ideal home office space to get work done. However, sometimes, a full addition may not be completely needed as most homes already have plenty of existing and usable space. Attic refinishing in Mountain Brook, AL is a great way to utilize space in your home that just is used as storage!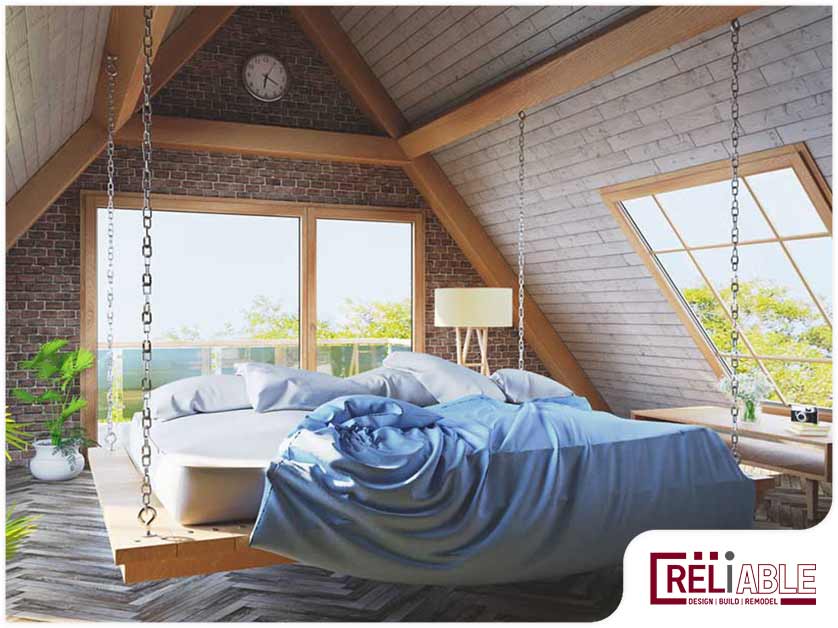 Just like basements, attics can be utilized in a number of ways. Whether it's a third, fourth or fifth bedroom, or even just a family recreation room, attics can be designed into more than just storage for seasonal decorations. Here are a few important points to consider from our experts at Reliable Remodeling if you want to get your attic finished.
The Rule of 7s for Attic Refinishing in Mountain Brook
Your remodeling service provider can help determine how this rule can apply to your attic. The Rule of 7s is a nickname most remodeling companies have about a building code that is standard across different localities. It says rooms must be at least 7 feet high and 7 feet wide, for every 70 square feet. Attics can vary from one to another so you will need the help of a professional to see how your remodel can comply with this common code requirement.
Beef Up the Floor for an Attic Refinishing Project
Footsteps in the attic can be extremely disturbing to people below. Talk to your contractor about reinforcing the floor joists with stronger and more beams to minimize footstep noises. Consider adding area rugs or carpeting to further cushion the sounds.
Finish the Ceiling
Attics often show the bare underside of a roofing system, so if you're finishing and painting yours, make sure to add a finished ceiling to your remodeling plans. A ceiling will also allow you to properly insulate your attic, and can give you space to add ventilation exhausts that can keep your roof protected against moisture damage.

Reliable Design-Build-Remodel is a full service general construction firm and remodeling contractor operating in the Birmingham metro and Jefferson and Shelby County areas and surrounding communities, including Birmingham, Helena, Chelsea, Mountain Brook, Hoover, Homewood, Montevallo, Alabaster, Vestavia Hills, and Pelham with over 30 years of servicing our valued clients. Offering full service suite of general remodeling, design and build services. Our specialties include bathroom remodeling, kitchen remodeling, exterior renovations, interior renovations, painting, and more!
Visit us at reliablerem.com, and like and follow us on Facebook and Instagram!