Color can set your home apart from other houses. The same applies to your interior spaces, especially the kitchen. White is a popular color for this room, but it wouldn't hurt to go against the grain sometimes. Even subtle pops of color will add more life and warmth to the heart of your home. Reliable talks about how you can expand your kitchen using specific color palettes, subconsciously creating a visual change in your kitchen.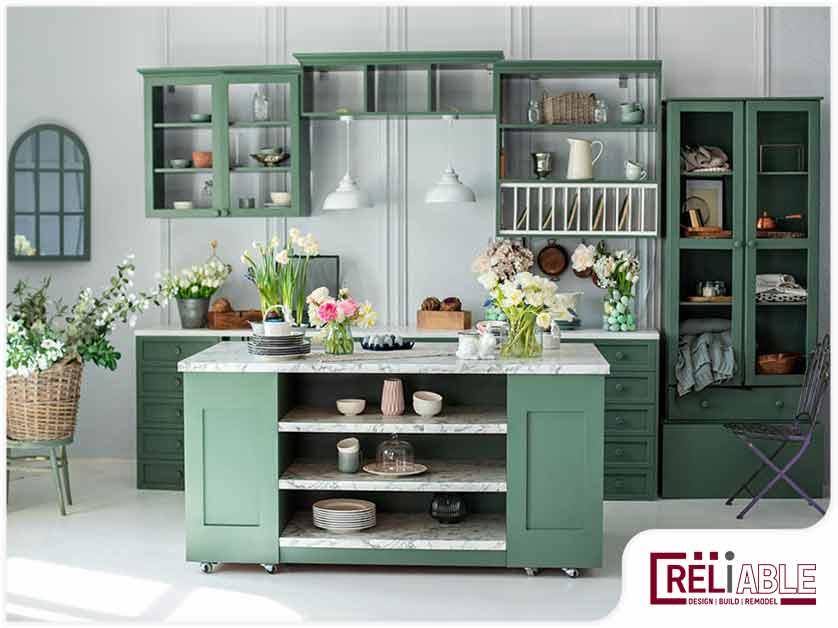 Here's and where you can add color to your kitchen remodeling project.
Accent Walls
An accent wall can tie together the elements of your kitchen. If you are going with wallpaper, choose a pattern that is not too busy or distracting. The more minimal the design, the more other decors in the room will stand out. Using light gray or blue on your ceiling will draw your eyes up and add more dimension to your space.  Lighter colors attract the eye, and are a major choice when you ask, "How can I expand my kitchen?"
Backsplash
Often, homeowners choose bolder backsplash options in their kitchen. You can get them in various materials, styles, patterns and colors. A colored backsplash will give your kitchen more personality and contrast. If you want to create a calming effect in your space, consider lighter shades of blue or teal.
Cabinets and Countertops
Add more character to your contemporary kitchen with colored doors on upper cabinet units. A bold-colored island will also make a great focal point for an all-white kitchen. For your island, consider navy blue, black and stained wood for added contrast.
Appliances
Consider colored appliances if you want to completely transform the look and feel of your kitchen. The great thing about them is that they work with most kitchen styles. They come in a wide range of hues, from vintage pastels and primary colors to metallic.

Reliable Design-Build-Remodel is a full service general construction firm operating in the Birmingham metro and Jefferson and Shelby County areas and surrounding communities, including Birmingham, Helena, Chelsea, Mountain Brook, Hoover, Homewood, Montevallo, Alabaster, Vestavia Hills, and Pelham with over 30 years of servicing our valued clients. Offering full service suite of general remodeling, design and build services including our small handyman division. Our specialties include bathroom remodeling, kitchen remodeling, exterior renovations, painting, and more!
Visit us at reliablerem.com, and like and follow us on Facebook and Instagram!