If you've ever wondered why you feel relaxed and comfortable in one space and tense or angry in another, it may have to do with the color of the room. The color actually influences our emotions and perceptions on an unconscious level.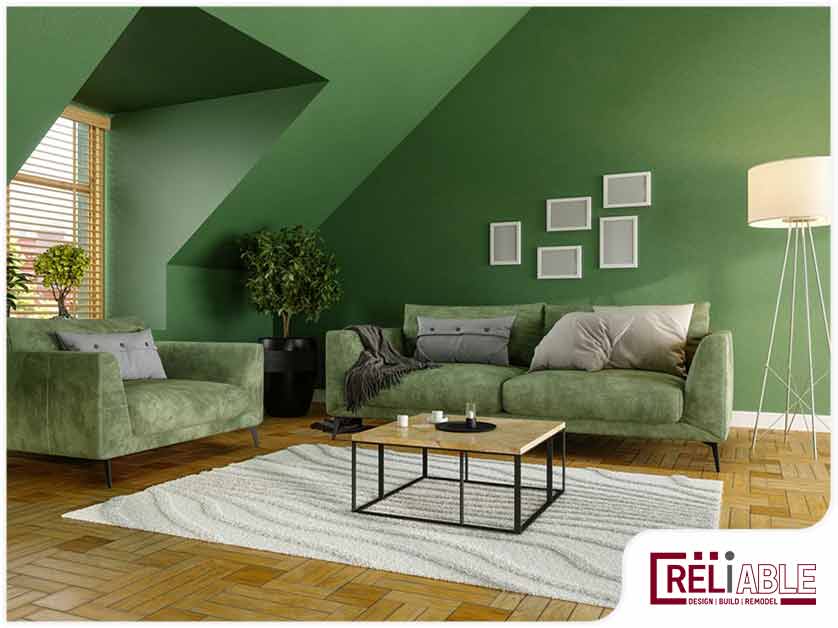 To help you select the perfect colors for rooms, home remodeling expert, Reliable Remodeling shares the psychology behind favorite paints. With science backing your choices, you can feel confident that you're finding the very best colors that can have a positive effect on your emotions.
Red – This is the most intense of the colors and definitely ramps up the energy in a room. It stimulates the appetite and conversation which makes red a great color for dining rooms and kitchens.
Pink – Even though pink is a tint of red and still has the cheerfulness of a warm color, it has a totally different effect on your mood. Pink has been shown to promote calmness and reduce aggression.
Orange – An energizing and fun color that stimulates the appetite and is, therefore, suitable for the dining room. It promotes a feeling of warmth, vibrancy and wholesomeness.
Gray – When used in the design, gray can have a very calming, soothing influence. It's a versatile color that adds an element of sophistication to space. If you paint your kitchen or your exterior living area gray, be sure to accentuate it with other warm colors.
Yellow – A welcoming, cheerful and optimistic color. It's a good color for the kitchen because it's cheerful, energizes you in a grounded way and can help increase metabolism.
Purple – A spiritual and creative color that people either seem to love or hate. Lavender is a beautiful, calming shade of purple and is very well-suited for the living room.
Blue – The most calming of all the colors. It is said to slow your heart rate and respiration as well as lower blood pressure. It also helps you think more clearly and be more productive, so blue is a great color for a study area or home office.
Green – The most relaxing color on the color wheel. It is also believed to relieve stress. With its serene and tranquil feel, it's no wonder it gets pick so often for spa bathrooms and restful bedrooms.
The Reliable Remodeling crew uses proven painting techniques to transform home interiors from drab to fab. We can repaint interior walls, remove wallpaper, texturize and even paint or stain cabinetry. We also paint ceilings and trim to ensure that your entire interior project comes together.

Reliable Design-Build-Remodel is a full service general construction firm operating in the Birmingham metro and Jefferson and Shelby County areas and surrounding communities, including Birmingham, Helena, Chelsea, Mountain Brook, Hoover, Homewood, Montevallo, Alabaster, Vestavia Hills, and Pelham with over 30 years of servicing our valued clients. Offering full service suite of general remodeling, design and build services including our small handyman division. Our specialties include bathroom remodeling, kitchen remodeling, exterior renovations, painting, and more!
Visit us at reliablerem.com, and like and follow us on Facebook and Instagram!