Have you ever considered the idea of a U-shaped kitchen? This popular layout, also known as a three-point design, is considered by many to be the most efficient kitchen setup out there. But, like any design, it has its own set of pros and cons. In this blog post, our kitchen and bathroom remodeling team at Reliable Design-Build-Remodel dives into the advantages and drawbacks of a U-shaped kitchen.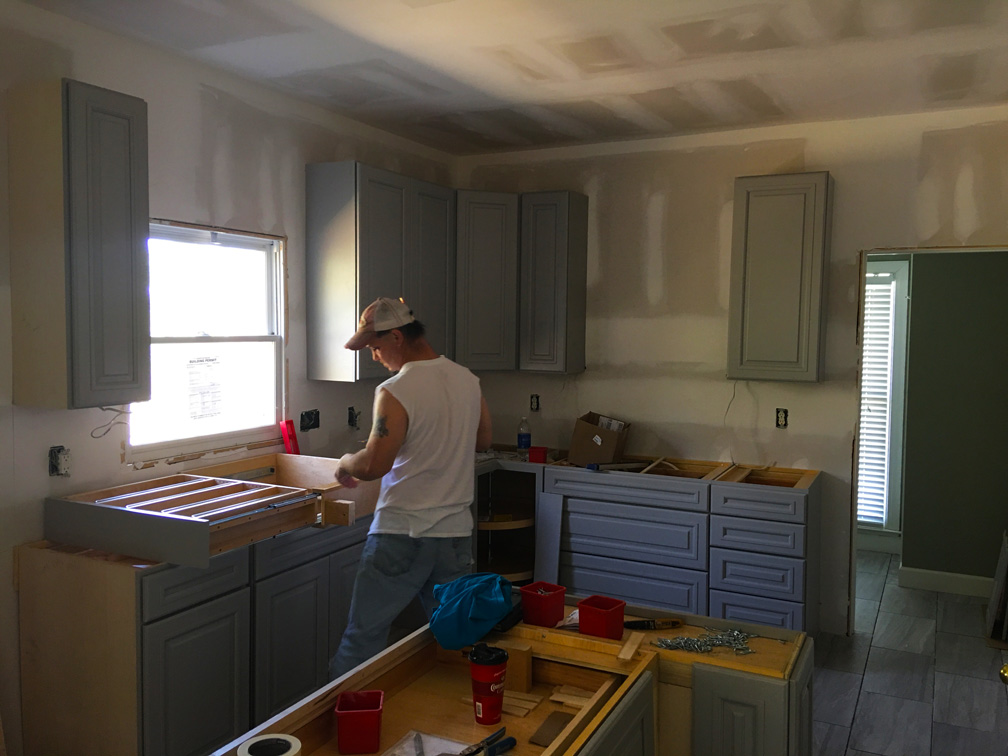 What's a U-Shaped Kitchen Layout?
A U-shaped kitchen layout is a popular design choice that maximizes space and functionality. This configuration consists of cabinets and appliances arranged in a U shape along three walls, offering several benefits and considerations that can impact your kitchen's utility and aesthetics.
Pros of a U-shaped Kitchen
One of the biggest advantages of a U-shaped kitchen is ample storage and workspace. The U-shaped design provides abundant storage and countertop space. With cabinets and counters on three sides, you have room to store kitchen essentials and prepare meals without cluttering the workspace.
This layout also allows for efficient workflow. It minimizes the distance between major work areas—the stove, sink, and refrigerator—creating an efficient kitchen "work triangle". This proximity streamlines food preparation and cooking tasks.
The design of the U-shaped kitchen naturally separates it from adjacent areas to prevent congestion. It's easy for multiple people to navigate and work in the kitchen simultaneously without obstruction. Moreover, if you're an avid cook or entertain frequently, a U-shaped kitchen allows for multiple cooking zones. You can have different sections dedicated to meal prep, cooking, and baking, enhancing the kitchen's functionality.
Its design flexibility is another advantage. The U-shaped layout can be customized to fit various kitchen sizes and styles. Depending on your kitchen remodeling plan, you can opt for open shelving, display areas, or a central island to suit your preferences and needs. Furthermore, you can enjoy abundant natural light with this layout. With three walls, U-shaped kitchens can often accommodate more windows. This allows for increased natural light, creating a bright and inviting cooking space.
Cons of a U-shaped Kitchen
Despite its many positives, a U-shaped kitchen isn't for everyone. For one, it can feel a bit cramped, especially in smaller homes. The three-sided design might make your kitchen feel closed-off or smaller than it is, which isn't something everyone enjoys.
Another potential downside is that the U-shaped layout can make it hard for people to interact with the cook or with each other. This could be a disadvantage if you love hosting or if your kitchen is the heart of your social gatherings. It can also be challenging when remodeling because the U-shaped structure might limit your options for rearranging appliances or adding an island for smaller spaces.

Reliable Design-Build-Remodel is a full service general construction firm and remodeling contractor operating in the Birmingham metro and Jefferson and Shelby County areas and surrounding communities, including Birmingham, Helena, Chelsea, Mountain Brook, Hoover, Homewood, Montevallo, Alabaster, Vestavia Hills, and Pelham with over 30 years of servicing our valued clients. Offering full service suite of general remodeling, design and build services. Our specialties include bathroom remodeling, kitchen remodeling, exterior renovations, interior renovations, painting, and more!
Visit us at reliablerem.com, and like and follow us on Facebook and Instagram!