An outdoor kitchen is a unique addition to your home. Building one on your back porch creates a functional area for entertaining guests and ultimately expands your living space. A kitchen remodel can also increase the resale value of your home because of additional features. You need to give some careful thought to the design of your outdoor kitchen. Here are some things you may want to consider: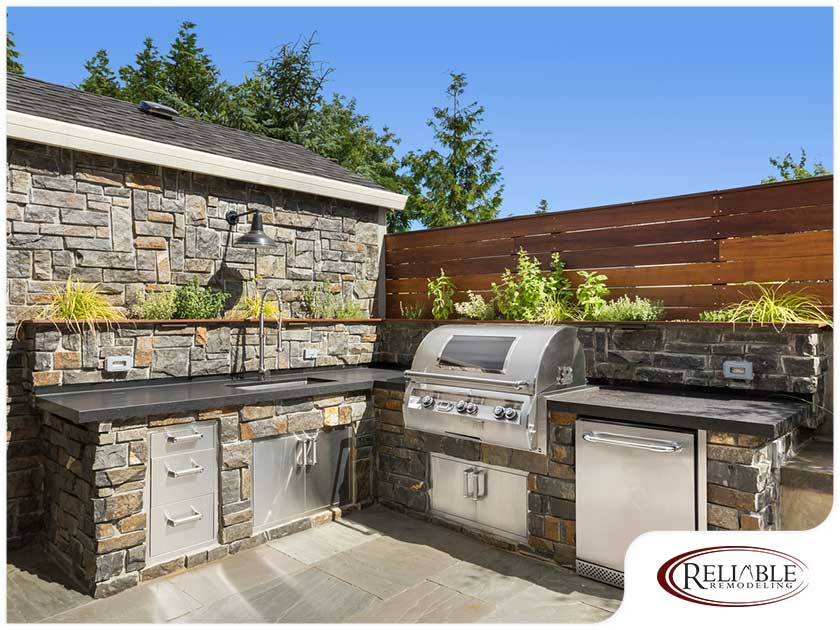 1. Built-in or Portable Grill
Decide how large of a grill you want for your extended kitchen. After, think about whether you want the grill to be permanently positioned in one place or mobile. If you plan on hosting and cooking for large groups of people, then you will greatly benefit from a large-sized grill. But if your outdoor grill is meant to accommodate your small family, then you may invest in a smaller BBQ.
2. Countertops
Consider how much preparation space you want for your outdoor space, and plan your countertop space accordingly. Make sure to use a material that is incredibly resistant to weather. Your best options from an expert exterior services provider are natural stone, concrete or tile.
3. Lighting
An outdoor kitchen is often utilized during evening hours. You need to incorporate adequate lighting on your patio to avoid chopping, slicing and prepping meals in the dark. After all, you need to ensure that you serve well-cooked food to your family and guests. This is also good for the safety of the residents.
4. Flooring
Some of your best choices for outdoor flooring are concrete, natural stone, brick and tile. You want to avoid high-maintenance materials as much as possible, but you do want it to be updated and stylish.
5. Sink
A sink with running water is necessary for an outdoor kitchen. This makes your meal preparation more convenient since you will not have to run in and out of your kitchen inside the house. It is a good idea to install the sink near your prep station for easier clean up when adding liquid to recipes.
Reliable Remodeling is a premier source of home remodeling solutions in Alabama. We work with residential clients in and around Pelham, AL, and provide kitchen, bathroom, painting services and more. Call us at (205) 988-9194 or fill out our contact form to set up an appointment.