Whatever goal you may have for your home, you'll find there's a remodeling project that can help you reach it. For example, a kitchen remodel can help you raise the value of your home while also improving the utility of your existing kitchen. For energy efficiency, there are a number of projects you can do to shave a few dollars off your energy bills. This includes upgrading your roof, replacing your windows, and, surprisingly, installing new siding to replace your basic LVP siding.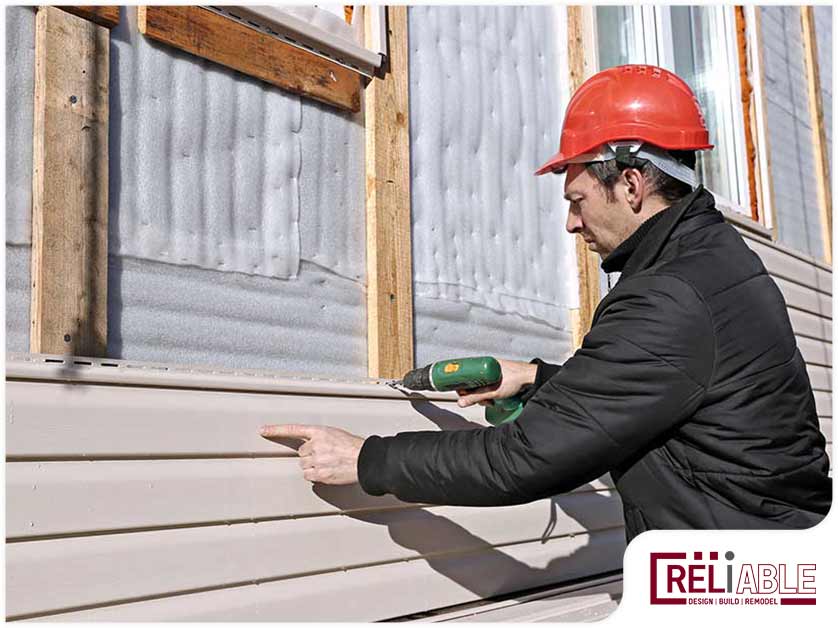 Most homeowners get new siding for aesthetics. It makes up over 40% of your exterior and is, therefore, a big factor in your curb appeal. But siding replacement jobs have one often overlooked benefit: they can also improve your energy efficiency. Let our experts at Reliable Design-Build-Remodel explain how.
Defending Against the Elements
Hiring painting services to help give your exteriors a makeover is well and good but if you want to boost your appeal and save money on your heating and cooling, it's better to replace your existing siding with a newer and more efficient one. Your siding is your first line of defense against the elements, protecting you from the sun's heat and the winter's cold. High-performance siding products that meet the R-value requirements of your area can help you save up to 10% on your annual energy bills.
Insulated Options instead of LVP Siding
Talk to your siding contractor about using siding boards pre-lined with foam insulation. Some experts believe that filling your walls with separate insulation is the best way, however, modern siding boards have come far in the way of developments that they can actually compete with traditional insulation products in terms of performance.
Choosing the Right Materials
Of course, the materials your exterior services use also plays a big role in energy-efficient siding. For example, vinyl siding boards may have higher R-values than fiber cement, but they are also a little less durable. Consult with your siding installer to find the best siding material for your needs.

Reliable Design-Build-Remodel is a full service general construction firm operating in the Birmingham metro and Jefferson and Shelby County areas and surrounding communities, including Birmingham, Helena, Chelsea, Mountain Brook, Hoover, Homewood, Montevallo, Alabaster, Vestavia Hills, and Pelham with over 30 years of servicing our valued clients. Offering full service suite of general remodeling, design and build services including our small handyman division. Our specialties include bathroom remodeling, kitchen remodeling, exterior renovations, painting, and more!
Visit us at reliablerem.com, and like and follow us on Facebook and Instagram!