Not a lot of homeowners consider water as a likely cause of any kind of chimney damage. After all, chimneys are designed to withstand the elements day in and day out, 365 days a year. But in actuality, nothing is more damaging to your chimney than prolonged water exposure. In today's post, exterior living solutions provider, Reliable Remodeling, shares three common ways water can damage your chimney.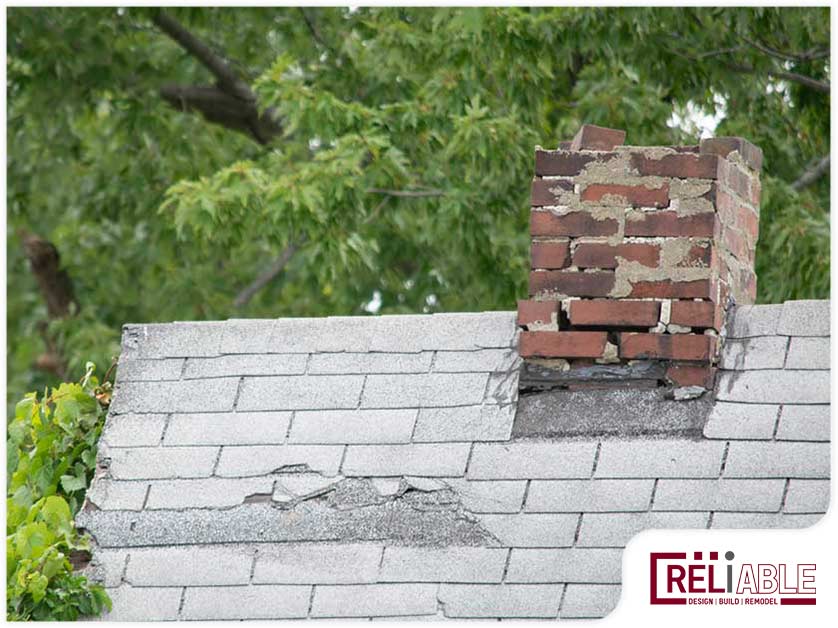 Spalling and Water Damage
If your chimney is made with bricks, then they are likely to suffer damage from spalling. Spalling occurs when the bricks absorb moisture. This moisture will freeze during winter and then thaws as the temperature rises again. This constant freezing and thawing can cause the surface of the bricks to break off and, if left alone, can compromise your chimney's structural integrity.
Damaged Mortar
The shifts and temperatures will not only damage the bricks, but the mortar that holds them together as well. Luckily, this is easily fixed by applying fresh mortar, but these problems can be difficult to spot if you do not schedule regular roof inspections. To avoid mortar and brick issues, it is recommended that you have your roof checked out at least twice each year by a trusted local roofing contractor.
Rusting and Damper Damage
You would be surprised how many chimney's lack chimney caps. Without chimney caps, rainwater can easily enter your chimney and cause damage to your tile liner. Excess moisture due to a missing chimney cap can also cause your damper, which seals the chimney when fires aren't being run, to rust. In addition to rainwater, animals, leaves and other debris can also go down your chimney if it isn't properly protected.

Reliable Design-Build-Remodel is a full service general construction firm operating in the Birmingham metro and Jefferson and Shelby County areas and surrounding communities, including Birmingham, Helena, Chelsea, Mountain Brook, Hoover, Homewood, Montevallo, Alabaster, Vestavia Hills, and Pelham with over 30 years of servicing our valued clients. Offering full service suite of general remodeling, design and build services including our small handyman division. Our specialties include bathroom remodeling, kitchen remodeling, exterior renovations, painting, and more!
Visit us at reliablerem.com, and like and follow us on Facebook and Instagram!