Local Basement Remodeling Contractors: Transforming Dated or Unfinished Basements Into Stunning Modern Spaces
Transforming your basement into a functional and stylish living space is an investment that will pay off for years. Whether you want to add value to your home or create more usable square footage, renovating your basement is the perfect solution. We offer a comprehensive range of services to help you achieve the ultimate basement development experience. From design to build and final touches, Reliable Design-Build-Remodel, as expert local basement remodeling contractors, ensure that every step of the renovation process is completed with utmost care and attention to detail.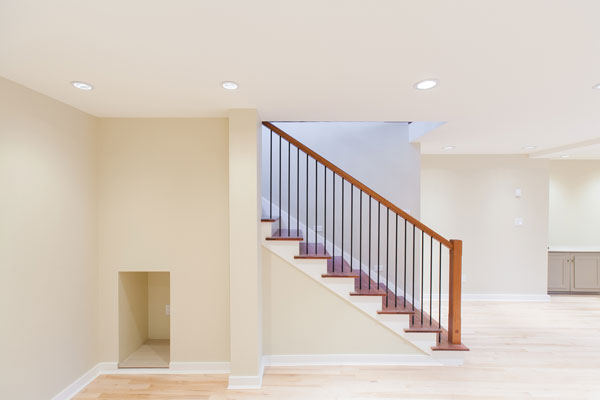 Experienced Basement Developers
Our team of experienced professionals uses only premium materials and state-of-the-art tools and equipment to ensure that every project meets industry standards. Our basement developers can turn your dreams into a reality by developing a customized plan that meets your specific needs and budget requirements. From creating an open-concept layout to installing energy-efficient lighting systems, we have got everything covered. We are committed to providing quality craftsmanship in every aspect of your project.
Basement Remodel Options
Living room
Bedroom
Laundry room
Full bathroom
Home theater
Home gym
Home office
Reading nook
Playroom
Entertainment room
Custom bar
Legal secondary suite
And much more
Why Should You Develop Your Basement?
Create More Living Space
One of the most compelling reasons to develop your basement is to create more living space for you and your family. Whether you're looking for a comfortable home theater, a guest bedroom, or a dedicated office space, your basement can be transformed into just about anything.
Add Value To Your Home
Basement renovations are considered one of the best ways to add value to your home without breaking the bank. By converting underutilized space into functional living quarters, you'll increase its overall square footage while making it more appealing to potential buyers.
Increase Energy Efficiency
A well-insulated and properly finished basement can help reduce energy costs by preventing heat from escaping through walls and floors. This can make a noticeable difference in both your comfort level and monthly utility bills.
Improve Indoor Air Quality
Moisture buildup in basements is common but can lead to mold growth that may affect indoor air quality throughout the rest of the house. Renovating your basement with proper ventilation systems will improve airflow and prevent moisture-related issues from occurring.
Personalize Your Space
Whether you prefer modern design elements or rustic charm, developing your custom-designed basement allows you complete creative control over how it looks and feels – giving you a chance to personalize this unique space according to personal taste without compromising on functionality.
Schedule a Consultation Today.
There are many advantages to renovating a basement, whether you want to increase square footage, add a new family room, or just boost your property's value. Our basement renovation services come with custom design options to create an open modern basement, the possibilities are endless. Contact us at (205) 988-9194 or complete our online form to schedule your complimentary consultation.