Local Home Addition Contractors
Are you looking to expand your home, but don't want to move? A custom home addition might just be the solution for you! Home additions not only add more space to your living area, but they also increase the value of your property. Custom home additions can be designed to fit any style or need. The beauty of a custom home addition is that it can seamlessly blend with your existing home's architecture and design. You may want to consider using similar materials and finishes for both your existing house and new addition to create a cohesive look. From creating a cohesive design to living in your home during construction, we've got you covered. Let's explore the world of custom home additions together.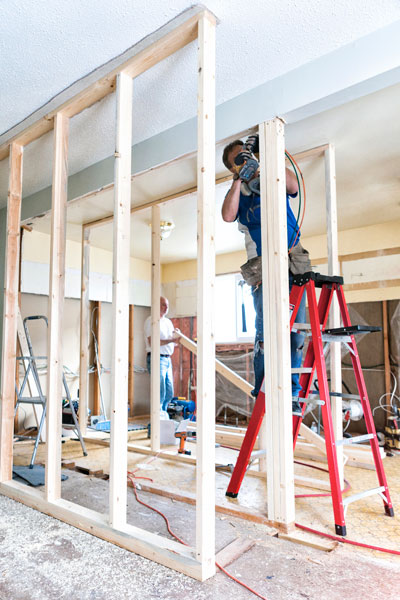 The Home Addition Building Process
The Foundation: Contractors will excavate, pour concrete footers, and set foundation walls if your home addition requires the foundation to be extended.
Framing: Once the foundation is complete the floors, walls, and roof will be framed out.
Roofing: The trusses will be mounted, the sheeting will be installed, the drip edge will be installed, and the underlayment will be attached to protect the interior of the addition. The rest of the roof will be constructed.
Windows and Doors: Installation of windows and doors will provide another layer of protection for the interior space by "drying in" the addition. The windows will also add some natural light to brighten the space.
Rough Electrical, Plumbing, and HVAC: During the construction of the home addition, pipes, wiring, and ductwork will be installed into the framing, and city inspectors will inspect them. The installation of drywall and installation can begin as soon as the wiring, piping, and ductwork pass the inspection.
Insulation and Drywall: As the framing is covered with insulation and drywall, the home addition will really start to take shape.
Interior Finishes: Upon installation of flooring, cabinets, and trim work, such as crown molding, the interior will be painted using the colors you selected.
Walk-Through: The final walk-through gives homeowners the chance to point out any changes or corrections before the addition finishing touches are completed.
Wrap up: The site is cleaned up and you can now enjoy your new home addition.
Creating a Cohesive Design
When it comes to home additions, creating a cohesive design is essential. You want your new addition to seamlessly integrate into the existing layout of your house. Here are some tips for achieving a cohesive design from Reliable, your expert local home addition contractors:
Consider the architectural style of your home: Your addition should complement the existing style and not clash with it.
Think about materials: Choosing materials that match or coordinate with those already used in your home will create a sense of unity.
Pay attention to details: Small touches like matching trim or using similar door styles can go a long way in making your addition feel like part of the original structure.
Don't forget about flow: Make sure that the traffic patterns in your home make sense and aren't disrupted by the new addition.
By carefully considering these factors, you can create a seamless transition between old and new parts of your home, resulting in an addition that looks as if it was always meant to be there.
Living in Your Home During the Construction of a Home Addition
Adding an addition to your home is a significant undertaking, and it can be challenging to continue living in your house during the construction process. However, with proper planning and communication with your contractor, it's possible to live comfortably while expanding your home.
It's important to establish boundaries early on in the project. Make sure you know which areas of your home will be affected by the construction and communicate this clearly with your family members. Set up temporary walls or barriers if necessary, so that you can still use parts of your home without interruption. For your own safety, ensure that children and pets are kept away from work areas at all times during the construction phase. Keep a constant line of communication with your contractor throughout the entire process. Our contractors provide regular updates on progress made as well as any potential delays or issues that may arise.
Book a Consultation Today
Whether you want to add a sunroom, a second floor to your home, or an additional bedroom or bathroom to your foundation, Reliable Design-Build-Remodel, as subject matter experts on local home addition projects, has the experience, skill, and precision to make it happen. With our planning, coordination, and construction services, we will deliver you the best possible renovation on time and on budget. Tell us about your vision and project ideas today! Contact us at (205) 988-9194 or complete our online form to schedule your complimentary consultation.