It's exciting to think about what your nursery will look like when you have a baby on the way. Of course, part of the fun comes from actually designing it. Reliable Remodeling can help you design your nursery as a beautiful home addition that's also functional. If you're not sure on where to start, here's what you should and shouldn't do.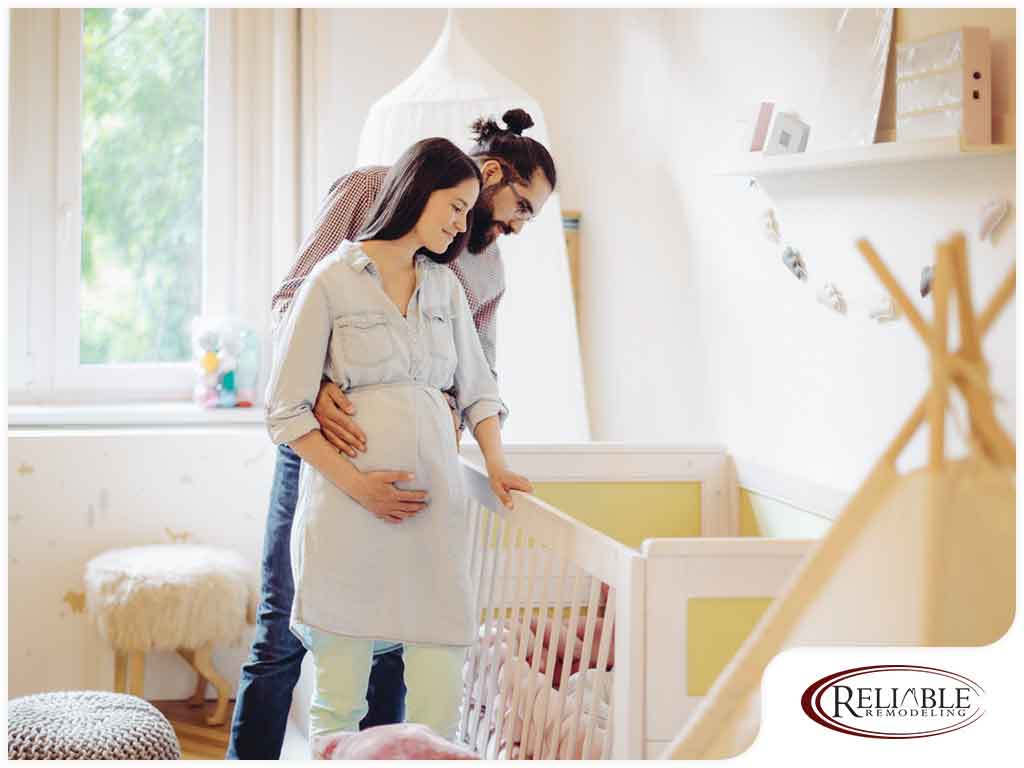 Do's:
• Do Choose a Lighter (Or Monochromatic) Color Scheme
If you have a small room for your nursery, darker color schemes can easily overwhelm it since they absorb light. With a lighter color scheme, it can make a room look brighter and more spacious. But if you still prefer to use something darker for your nursery, consider a monochromatic color scheme instead. This can help diminish the visual breaks in your room, making it look a bit bigger.
•  Do Use Patterns 
Some patterns can actually make your nursery look bigger. For instance, painting the walls with a vertically striped pattern can complement the height of your nursery, while a horizontal pattern can make it appear wider. Either way, the right pattern depends on how you want your nursery to look.
•  Do Use Simple Furniture to Leave Room to Grow
Using furniture with clean and simple designs can help in making your nursery feel less stuffy and more open. Be sure to make the most out of the space as well, since you'll be filling it up later on as your baby grows. It's important to think of what's going to happen in the long term so you can save yourself having to worry about it later.
Don'ts:
•  Don't Completely Rule Out Larger Furniture
If you have too much small furniture in your nursery, it can make it look a bit cluttered. This is where bigger can sometimes be better, despite having a small nursery. Just be sure to stick to one or two large furniture pieces, so that it can still make your nursery look bigger.
•  Don't Use Too Much Lighting
If you have windows in your nursery, make sure that it lets in just enough natural light. Too much lighting can be harsh for the nursery, especially if the sun directly shines on it. It helps to dress your windows by installing blackout curtains or heavy blinds. This can help your baby sleep more comfortably, and for longer. Also use dimmer overhead lighting fixtures, especially if you have a few installed above your baby's crib.
•  Don't Forget to Baby-Proof Your Nursery
Even if your baby hasn't learned how to walk yet, it's still better to baby-proof your nursery. Make sure to tuck away electrical cords and cover electrical outlets. Your furniture can be a potential threat to your baby, so they should be anchored down properly. Look out as well for any potential choking hazards such as pills or tablets that are within your baby's reach, and store them in a safe but accessible place in the nursery.
Whether you're looking to renovate your nursery or other parts of your home, hire our services at Reliable Remodeling. Our team of remodeling service contractors have years of expertise, so we're confident that you'll be left satisfied with our job. Call us today at (205) 988-9194 or fill out our online form to schedule an appointment. We serve our clients in Alabama, including Hoover, Vestavia and nearby areas.